Happy Valley Together
Support your Happy Valley businesses. The Happy Valley Business Alliance is helping fellow businesses challenged by the COVID-19 shutdown.
The goal is to sell 20,000 shirts and divide the profit among all participating Happy Valley merchants.
Get Yours
Are you a HV business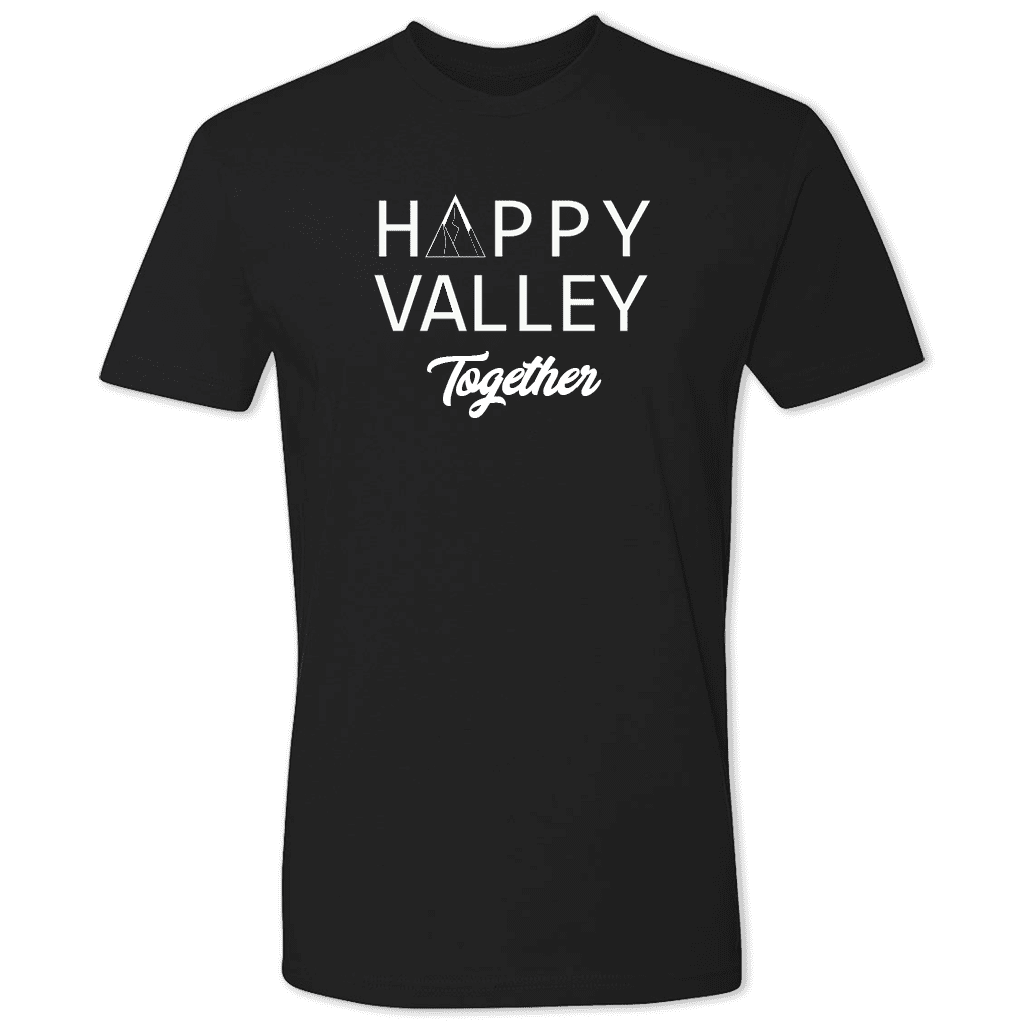 You buy a shirt, we give $10 to participating local businesses…it's that simple. More shirts = more support for the people who need it most.
[et_pb_wc_images product="985″ _builder_version="4.4.3″][/et_pb_wc_images]
[et_pb_wc_price product="985″ _builder_version="4.4.3″ body_text_color="#0a0a0a"][/et_pb_wc_price][et_pb_wc_add_to_cart product="985″ show_quantity="off" show_stock="off" _builder_version="4.4.3″ custom_button="on" button_text_color="#ffffff" button_bg_color="#000000″ button_border_color="#000000″ button_icon="%%277%%"][/et_pb_wc_add_to_cart][et_pb_wc_rating product="192″ show_reviews_link="off" _builder_version="4.4.3″][/et_pb_wc_rating]
The HYVÄ Shirts For Good program is designed to raise funds and bring communities together with the humble shirt. A purchase that becomes a powerful act of community for those in need. 
We do all the designing, printing, processing, production, and service - you help get the word out. 
To start a program in your town or organization, the button below will get the ball rolling.
[dica_divi_carousel show_items_desktop="5″ loop="on" dot_nav="on" item_spacing="30px" advanced_effect="1″ title_background="rgba(0,0,0,0)" arrow_position="middle-outside" module_id="business_slider" _builder_version="4.5.4″ _module_preset="default" title_font="Montserrat|800||on|||||" title_text_align="center" title_text_color="#002664″ title_font_size="22px"][dica_divi_carouselitem title="Sublime Clothing" button_url_new_window="1″ _builder_version="4.5.4″ _module_preset="default" header_font="|||on|||||"][/dica_divi_carouselitem][dica_divi_carouselitem title="SUSHIMOTO" button_url_new_window="1″ _builder_version="4.5.4″ _module_preset="default"][/dica_divi_carouselitem][dica_divi_carouselitem title="Madrona Wealth Management LLC" button_url_new_window="1″ _builder_version="4.5.4″ _module_preset="default" header_font_size="18px"][/dica_divi_carouselitem][dica_divi_carouselitem title="Happy Valley Arts Academy" button_url_new_window="1″ _builder_version="4.5.4″ _module_preset="default"][/dica_divi_carouselitem][dica_divi_carouselitem title="Happy Valley Nursery" button_url_new_window="1″ _builder_version="4.5.4″ _module_preset="default"][/dica_divi_carouselitem][dica_divi_carouselitem title="Valley Growlers" button_url_new_window="1″ _builder_version="4.5.4″ _module_preset="default"][/dica_divi_carouselitem][dica_divi_carouselitem title="Happy Valley Farmers Market" button_url_new_window="1″ _builder_version="4.5.4″ _module_preset="default"][/dica_divi_carouselitem][dica_divi_carouselitem title="Venvino Art Studios" button_url_new_window="1″ _builder_version="4.5.4″ _module_preset="default"][/dica_divi_carouselitem][dica_divi_carouselitem title="Sports On Tap" button_url_new_window="1″ _builder_version="4.5.4″ _module_preset="default"][/dica_divi_carouselitem][dica_divi_carouselitem sub_title="Mediterranean Grill" button_url_new_window="1″ _builder_version="4.5.4″ _module_preset="default"][/dica_divi_carouselitem][dica_divi_carouselitem title="CITYCYCLE" button_url_new_window="1″ _builder_version="4.5.4″ _module_preset="default"][/dica_divi_carouselitem][dica_divi_carouselitem title="Happy Valley station" button_url_new_window="1″ _builder_version="4.5.4″ _module_preset="default"][/dica_divi_carouselitem][dica_divi_carouselitem title="We Are Cake" button_url_new_window="1″ _builder_version="4.5.4″ _module_preset="default"][/dica_divi_carouselitem][/dica_divi_carousel]